Email Attachment Extractor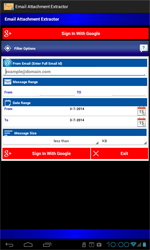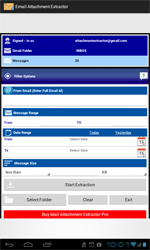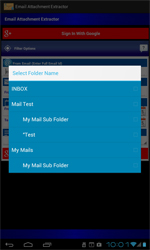 Mail Attachment Extract and Download for Gmail - Features:
Extract mail attachments from your Gmail mailbox. Gmail Attachment Extractor lets you extract attachments and save them on your device automatically.
Following features/options are available:

Choose any Gmail account configured in your device.

Filter by "From:" email


Only extract attachments received from a known sender.

Message Range:


Enter email message number in From and To boxes. Choose email message numbers from which to extract the attachments. For eg: between emails from 100 and 500

Filter between dates:


Enter date of received emails and extract attachments received within a date range.

Message Size:


Extract attachments only from emails less than or greater than a particular size. You can enter email size either in KB or MB.

Select mail Folder:


Select a mail Folder to extract the attachments from emails in that folder.

Choose Inbox or any Label from your Gmail to extract attachments.


You can see the extraction progress anytime in the Notification area of your device.


Privacy:


Safe and secure as your account credentials are with Google. No personal information is collected.

Use Mail Attachment Extractor Pro for more features:
1. Multiple Folders Selection :

Select one or more folders to extract the attachments from all folders at the same time.

2. Attachment File Types :

Use this option to extract only a particular type of attachment. This is more quicker than extracting all types of attachments. For example, you can choose to quickly extract only .pdf files from your emails. Attachment file types supported are: .zip, .doc/docx, .jpg, .png, .xls/.xlsx, .pdf

3. Unread messages :

Extract attachments only from unread and new messages.

Keywords:

email attachment download

download gmail attachment

gmail attachment download
Free

Pro

Compare Free & Pro