Email Extractor for Gmail™. Extract email addresses in From, To, Cc, Message body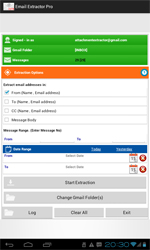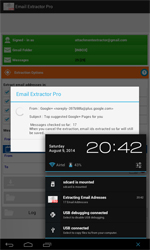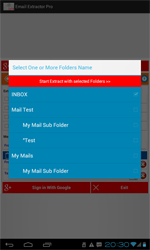 Features
Email Extractor for Gmail™
Extracts sender Name and email addresses from your Gmail™. Extracts email addresses from body of messages. Extracts Name and Email address in From, To, Cc header of the email messages.
No need to enter your Gmail username/password in the App. Just choose the Gmail account added in your device. If you want to use another Gmail account not already added in your device, just add the Gmail account in your phone or tab and then use Sign-in button to select the added account. Use the App for extracting email addresses from unlimted number of Gmail accounts.
Following features/options are available:

Extracts both Name and Email address in "From, To,CC" header of the email messages as well as in Message Body. Lite is for extracting email address in "From" header.

Message Range:


Option to choose a message range - say From 100 To 500th emails to extract.

Filter between dates:


Optionally choose a date range or leave it to extract from all emails. Lite and Pro only.

Other:

Share/Upload extracted files - send to email, upload to cloud.


Saves the extracted email addresses as a .CSV file in your /sdcard/Downloads folder.

Select mail Folder:


Choose any mail folder/label from your mail account.

Choose any single or multiple mail folder/label from your mail account.

Use our other app IMAP Email Extractor for extracting email ids from your Yahoo and other mail accounts like yourdomain.com mailboxes.


Privacy:

Safe and secure as your account credentials are with Google. No personal information is collected or transmitted to any third party.
Email Extractor Lite, Pro features:
1. Unlimtied emails - no limit on number of messages.

2. Multiple Folders Selection

3. Lite version just extracts email address in From: header

4. Use Pro for extracting all email addresses in From, To, Cc, Message body, Sent Mail.

5. Date Range selection

6. Log - see number of email addresses extracted in each session, options used, Gmail account used to extract.

Compare Free, Lite, Pro